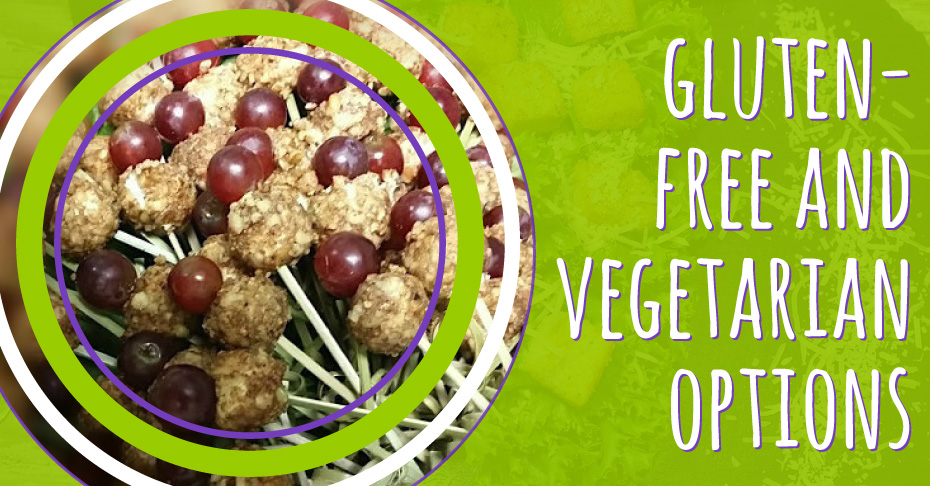 Ordering catered meals to meet everyone's dietary needs can be tricky. One person is gluten-free and another is a vegetarian. Many corporate catering companies don't offer options that meet people's varying needs, but Post Exchange does!
Gluten Free
We have lots of options for your gluten-free employees, guests or customers. They will be impressed with the fact that you took the time to meet their dietary needs. You don't have to tell them it was super easy with the online ordering system offered by Post Exchange Catering!
If your gluten-free eaters eat meat, they will love this dish. We start with a succulent chicken breast, roasted with lemon and served over an ample bed of wild rice. A Greek salad and a healthy, tasty vegetable medley accompany the chicken breast. This meal can be quickly made non gluten free with the wheat rolls that can come with it. Iced tea and Sweet Street Desserts come with this choice too!
Gluten-free eaters can be used to getting the short end of the flavor stick, but not this time! This buffet-style meal will please everyone! Curried chicken and jerk beef is mixed with vegetables in a luscious sauce that is bursting with flavor. Yellow rice and black beans fill the plate and will have stomachs singing. Wheat rolls are available, as is iced tea and Sweet Street Desserts.
Vegetarians
From our appetizers to our entrees, vegetarians will be surprised at the choice of items they have on our menu. Healthy and delicious corporate catering is what Post Exchange does, and vegetarian dishes are no exception.
Appetizers
Vegetarians are used to getting stuck with bland appetizers, but not here! Our Grape and Goat Cheese Bites are a delightful bite of farm fresh goat cheese rolled in chopped nuts on a small skewer with a plump, juicy red grape.
Salads
Our unique salads will have vegetarians having more choices than they are used to! Our Winter Salad is a tasty mix of kale, assorted lettuces, roasted butternut squash, broccoli, pecans and parmesan cheese, all tossed with a Sherry Vinaigrette that brings out the flavors of each element for this hearty seasonal salad.
This fresh twist on a protein rich salad pleases vegetarians and protein lovers alike. Expect a burst of flavor in every bite of quinoa mixed with red onions, edamame, carrots and scallions. Veggies are infused with a lime dressing.
For a big appetite, nothing satisfies like pasta, and we have a great options for vegetarians. A bed of spinach and egg fettuccine is given a light coating of creamy alfredo sauce and topped with roasted seasonal vegetables. This meal is served with a caesar salad and garlic bread. As with so many of our delicious meals, it comes with our famous fresh brewed iced tea and Sweet Street Desserts.
Order today or use our handy online ordering system and make the gluten-free and vegetarian eaters happy!