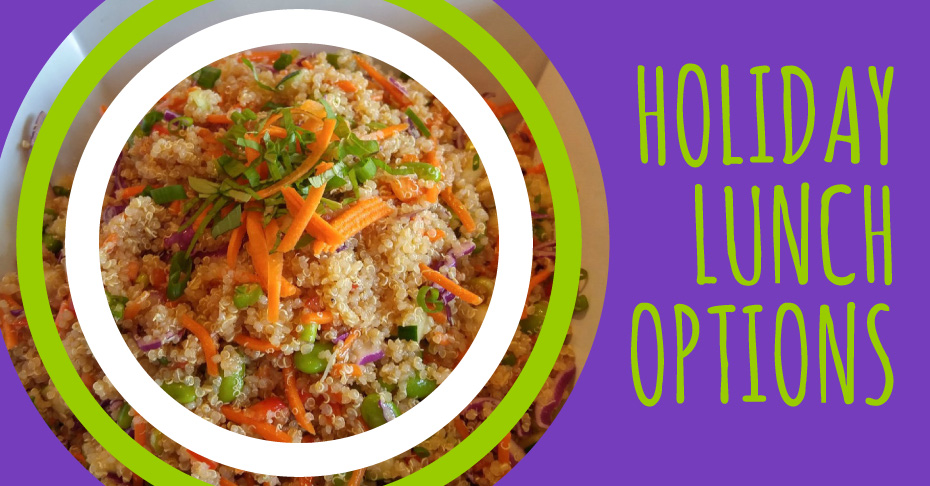 There are lots of options for you to choose from when you are planning the holiday party for your hard-working team. You could have a potluck, but that is not really a reward for your team, and everyone is so busy this time of year that it is highly likely that you'll end up with a table covered with appetizers that were bought at the last minute. Or you could make a reservation at a restaurant, but that can quickly balloon into an expensive affair that blows your budget out of the water. Or you can call Atlanta's favorite corporate caterer and get a fantastic, memorable feast that will amazing everyone and enable you to stay in your budget.
This meal includes a scrumptious, juicy piece of lemon chicken roasted to perfection. This irresistible entree is served in a bed of wild rice. A Greek salad accompanies the chicken, along with a roasted vegetable medley and wheat rolls so you can soak up and enjoy every drop of juice, which you'll want to do because it's so delicious. This meal also comes with our signature fresh brewed iced tea and Sweet Street Desserts.
If you think your crew or parts of your crew are confirmed meat eaters and would appreciate a steak more than anything, have we got the meal for them. Our corporate catering menu also has a Ribeye Steak to please any meat lover. This lunch portion of steak is 6 ounces and served with delicately sauteed mushrooms. It is served with our seasonal harvest hash, a melange of brussel sprouts, fennel and leeks. An Autumn salad and fresh baked dinner rolls are also served with the steak.. We include everything you need for lunch too, including cutlery, plates, serving pieces and cups.
For the vegetarians in your group, we have several options. One delicious salad we have is not what you might think of when you hear the word salad. Our Thai Quinoa Salad is a protein rich choice that has these wonderful grains mixed with fresh veggies, and infused with a lime dressing. Every bite will delight your tastebuds and satisfy your hunger.
Call today to order your holiday lunch menu and treat the team!
CONTACT US TODAY