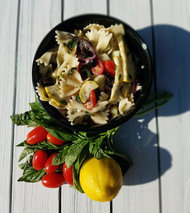 Leading through Goodness: fabulous food and RAK.
A hallmark trait of sustainability and success in any organization lies in the goodness of the endeavor. Community charities are established to meet a need or address a crisis. Their success depends on the goodness and generosity of the people involved. The catering industry, specifically, Post Exchange Catering is no different. Their 26 year legacy of goodness in food and giving back to the community has contributed to their long term sustainability.
Goodness in food
Post Exchange's incredible food which is freshly sourced and chef crafted leads to goodness that is undeniable! But the secret sauce is kindness! The PEC team loves to season liberally with kindness. Random acts of kindness(RAK) are sprinkled around like confetti. At team meetings, there is a RAK grab bag. Pull out a gift card from the RAK bag and there are always two, one for the team member themselves and one for the team member to give to brighten someone else's day. The PEC team believes in goodness and we like to spread it with fabulous food and random acts of kindness.
Goodness in organizations
The most successful companies are not those with the most employees but those making the biggest impact creating unity in communities. How did the founders of PEC perpetuate goodness and unity in their business model? By understanding the two special ingredients that bring people together is amazing food and incredible kindness. PEC's team works diligently to deliver those two components to clients everyday all across Atlanta. The culinary team creates and crafts food with love and sprinkles it with kindness for office meals and catered events. They love what they do and are honored to be serving one of the best communities in the nation!